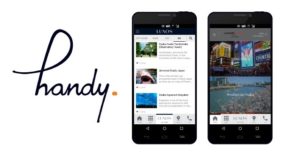 We have launched a new service "handy".
Guests (who stay dormitory room are not included) can use our smartphone for free !
Never worry about roaming charges or getting lost.
The handy smartphone is FREE to use during your stay.
(It is provided in each private room, please feel free to use.)
Unlimited Local and International calls*
Free Internet Access
Latest Travel Finds
Exclusive Brand Promotions
Speed Dial to Hotel Services
*Please refer to "Make International Calls" tab in the call button for a lot of countries and regions supported.
The device can only be used locally.