【JR Nagoya station to Kyoya】
7 minutes from Nagoya Station by bus
2 minutes walk from Meido-cho bus stop
(210 yen /person)
1)Take a bus bound for 大曽根(Ozone) or 上飯田(Kami-ida) at bus stop No.8, and get off at "明道町(Meido-cho)"bus stop.
2)You got off the bus, walk to the east along viaduct of expressway.
3)Turn to the left at the second corner.
4)Go straight about 100m, you can find Kyoya Ryokan on the left side.
【Bus stop map — please go to bus stop No.8】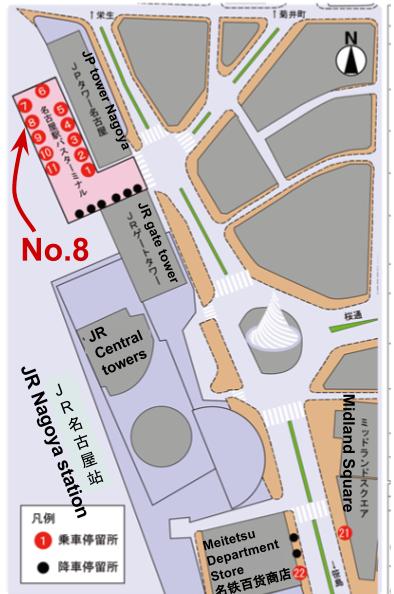 For the latest information, please check the website.
Transportation Bureau City of Nagoya
If you ask the following question, please show the translated sentence to a driver. You can ask your question easily.
Where is the bus stop for Meido-cho?
⇒明道町のバス停はどこですか?
Should I wait here for the bus to go to Meido-cho?
⇒明道町行きのバスはここで待てば良いですか?
Does this bus at Meido-cho?
⇒このバスは明道町へ行きますか?
Please let me know when this bus gets to Meido-cho.
⇒明道町に着いたら教えてもらえますか?